Learn Operations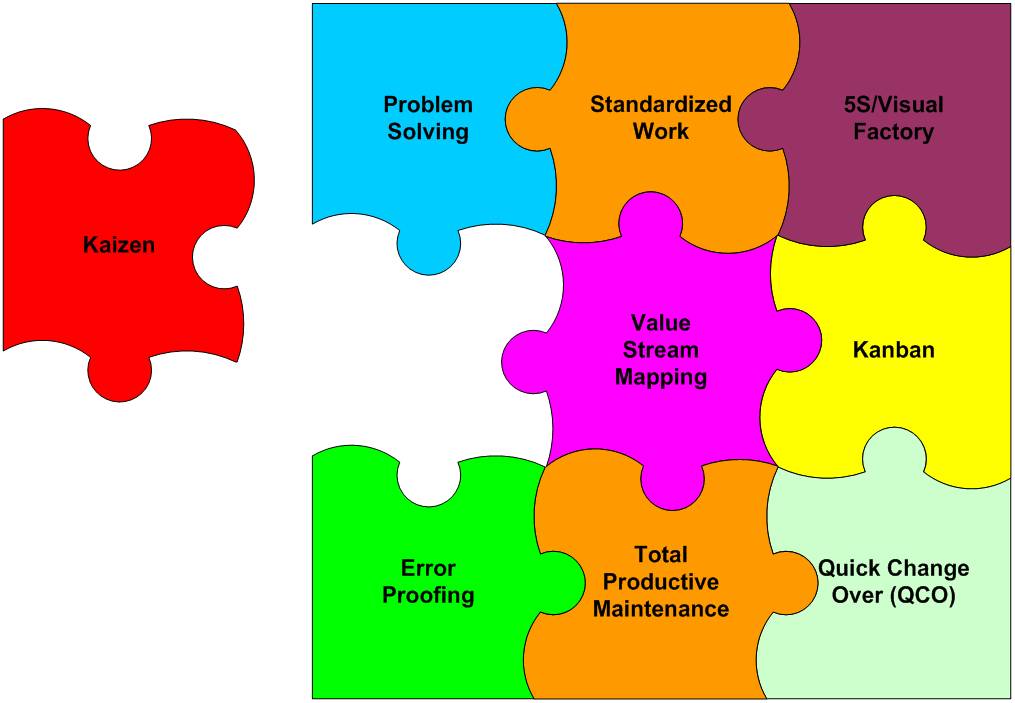 About Our Training
Training and education is an important part of any improvement initiative to do things right from the beginning and a great way for team building activities or for people to develop together. Training should be calibrated to fit the right level based on background and skills of the participants, not too easy so you can quickly lose interest, but not too hard or too much at once so you give up. A well-implemented programs will ensure that any improvement or change initiative you are considering becoming successful!
Emprowa offers classroom training, arranged either on one of the conference facilities we use, or at your site in your premises. Training can be conducted as a separate training session or as part of your business conference. The training is calibrated to match the participants' prior experience and adapted to the industry they come from. Our training is a unique blend of theoretical knowledge (knowing how to do) combined with practical exercises (able to do in practice).
Training performed on-site at your premises tailored to your needs, as we together develop best practices and apply them in your daily routines. Procedures and standards that staff develop together they take ownership of and follow when they both understand how to do and can perform in practice. Training ans education is an investment in staff and the result will appear in the form of higher and better performance and dedicated staff dealing with the right things done with higher quality but at a lower overall cost.
We also provide e-learning as a supplement to traditional classroom training, such as preparation for other training or as an alternative training method. Individual training is more flexible because you can arrange the time for learning yourself and you can learn at a speed that suits your own needs or agenda.
Problem Solving
Everyday we face problems, some of them are easy to solve because the cause of the problem is obvious. However, many problems, especially related to a production environment tend to be more complicated to solve and come back again and again whatever actions we take. This is unfortunately quite common since we usually did not correct the root cause of the problem and instead attacking and try mitigating its impact. We need to make use of structured methods that helps us to find the real root cause of the problem.
Emprowa is an expert in various problem-solving methods and delivers training at different levels depending on the needs of the organization. All employees should know the basic problem-solving methods such as PDCA, Ishikawa and 5 WHY, but others may need to use more advanced problem-solving methods such as PCA, Advanced 5 WHY, FMEA, FMECA or similar. All these methods are based on collecting and record facts and observations on different levels of detail that ultimately will lead us to find the true root cause. We can also provide Problem analysis based on Kepner & Tregoe, a method that is suitable to solve difficult business problems or to assist in complex development environments where things can go wrong.
Continuous Improvement
Continuous performance improvement is part of an operational strategy to establish and operate according to best practice standards (do the job right), and to identify and reduce such time losses (OEE losses) and material losses in the machine processes and plants. The use of Kaizen teams that specialize in different types of losses are an important part of improving the methodology. These teams have a cross-functional mix, for example, with staff from operations, maintenance and quality departments that work together across borders.
Emprowa provide standardized training in various methods (routes) suitable for use by Kaizen teams. A route consists of several steps and implemented over a three month period while both teams learn the underlying theory and may then implement the steps of the practical aspects of their home environment on machinery and plants to increase, for example, machine availability and / or reduce material waste in processes. There are a number of well-defined routes that are well suited to use to solve most problems found in a process or industrial environment.
Example of Continuous Improvement routes and tools:
OPL > One Point Lesson
5WHY > Problem Solving
SSR > Short Stop Reduction
BDR > Breakdown Reduction
DRR > Defect Reduction Route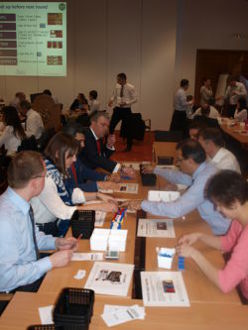 Lean the Company
Lean is an operational strategy to reach a goal by continuously eliminate, reduce and manage variations to improve both the flow and resource efficiency throughout the value chain. The main focus is on the time from order to delivery. In order to implement a Lean strategy as the organization needs to master and use appropriate methods and tools to identify and reduce one or more of the so-called seven kinds of losses / waste, which is found in almost all value-adding processes.
Emprowa offers both standardized and customized training for companies who are interested to know more about how to go about creating lean production based on JIT (Just in TIme) and how to improve their supply chain. By learning to identify losses and waste in their processes and appropriate methods to eliminate or reduce these, the company can also reduce the time from order to delivery while maintaining or improving delivery performance. Our training modules for lean-the-company can be freely combined according to need and interest.
Example of lean methods and tools:
5S > Five S Visual Workplace Organization
VSM > Value Stream Mapping
QCO > Quick Change Over
TAKT > the pace, in a producing system, specify the amount of units to be produced per unit of time
Lean Game
Lean is often cited as a panacea for many organizational problems in a variety of industries which is not always true. However, we know that Lean works very well when working with flow units. The definition of a flow unit can be anything from a solid piece of metal to a patient in a hospital. A good way to gain an understanding of the most common Lean principles (customer value, material and information flow, demand and perfection) is to apply these principles yourself.
Emprowa has developed a fun and interactive Lean game that gives you a good overview and understanding of Lean principles. The short version requires only three (3) hours of playing time and is perfect for a team building activity during one of your sales or management conferences, or as an introduction to operational units and departments who want to know what Lean is.
Lean game is played in groups of 8-12 people and several groups can play against each other at the same time to get into a competitive element. If you want a deeper understanding so we use a whole day and integrates Lean game with depth reviews of all the methods and tools that are suitable for use in your company.
Cultural Differences
Anyone working in a multicultural environment know that there are differences in how we interpret things and interact with each other. In the West, we should always tell the truth and present bad news, but in Asia and other parts of the world, we should avoid making our boss angry so better hide the truth or be quiet and wait and see what happens. Another example is that in the West means "YES" is a firm commitment, but in Asia it simply means "Yes, I hear what you say and will do my best." To be aware of some basic cultural differences can open the way to success for anyone thinking that wants to do business outside of their home or settle down and work in another country.
Emprowa has developed a fun and interactive training package that is suitable for people who want to know more about other cultures and / or multicultural organizations that want to learn about common mistakes and how to avoid them. The program usually runs for 1-2 days and is perfect as a team activity for a department or a smaller company. We can also customize the training to your company's specific needs. Contact us for a discussion.
Problem Analysis & Decision Making
When people are faced with difficult problems or to take important decisions and the need to ensure a good result, you can not just make a "best guess" and hope for a positive outcome. Hunches, instinct and pure intuition can sometimes be inspiring, but they often lead to unforeseen difficulties that exacerbate the original situation. It may then feel safe to follow proven methods that, in most cases, a right with a sense of security and that it has done its best.
Emprowa offers training in strategic analysis tools and procedures which are used to solve difficult problems or prioritize different options and take a well considered decision. Usually begins analyses with a situation analysis to ascertain why nothing happens or what organization should prioritize when you have too much on their agenda. The analyses are based on a concept developed by Kepner-Tregoe (KT), which is currently used successfully by many renowned organizations and suitable for all professionals interested in acquiring and strengthening their strategic skills.
Train the trainer
Training and education is an important part of all parts of the organization. For new or specific topics the use of external trainers and specialists are preferred, but for basic and repetitive training it can be a good idea to develop own internal trainers. Candidates may be someone with a particular interest and expertise in certain knowledge areas, or a group leader of an operational unit with long experience.
Emprowa provide training and coaching of, e.g Continuous Improvement Coordinators (CIC) or Subject Matter Experts (SMEs) to take on the role as Internal Trainers. We deliver comprehensive training for staff who are supposed to serve as operations coordinators to run and manage applications in all or part of the organization. We also teach the tools and methods for Kaizen teams, and how to run and audit the improvement projects. We can also assist in identifying and training subject matter experts (SMEs) to take on the role as internal trainer for a specific subject.
Tailored Training
The training modules listed above are only part of our offer. We have developed and supplied many different types of training packages, and we can also tailor training to suit your needs as long as it falls within our expertise. Contact us for more info!
Program & Projects
Emprowa Operational Excellence training modules and tools.
Below you can read about Improvement Programs.
---
Improvement Programs
A program of business improvement is a collective name for all the projects and activities that need to be initiated to change the situation and status within a specific area in order to achieve a better and more desirable level. We choose not just call it a project to highlight that it is not about small short-term actions performed by outside personnel without more radical changes as their own staff to carry out and that usually takes time to carry on business improvement will be rolled out in many departments and permeate the entire organization. The program itself becomes part of the daily work as opposed to projects that usually takes a bit to the side and are easier to prioritize away.
A program usually also divided into different phases, such as pilot phase which in projects can test a method or solution in isolation to form an idea of ​​how it will work and what results can be expected. The next step will be an expansion phase, when according to an established plan rolls out the intended method or solution to all other processes. The third phase is usually called the stabilization phase where the goal is to ensure that the investments in people and machines will be perpetuated and that the staff has taken ownership of the change and are continuing to work with continuous improvements in the program area. There is usually a well-defined audit system to ensure compliance with the program plan and reach the milestones achieved during program start. The programs below can be implemented in isolation singly or put together as modules in a larger overall program and with different depth and breadth of the improvement to be achieved.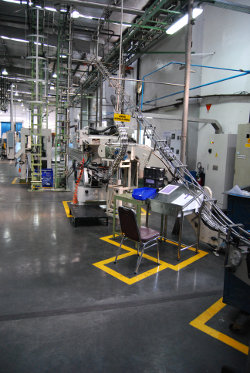 Continuous Improvement
To start up a program of continuous improvement (CI) is often part of an organization's attempt to improve overall equipment effectiveness (OEE) and to reduce operating and material costs. The focus will be on using the Kaizen team, in projects working to identify and reduce the time and material losses and setting norms and standards for the daily work. The program normally includes a pilot phase to become familiar with the methodology and train the operational management and aspiring project managers for the Kaizen team. The next step is the implementation phase when in a structured manner rolls out improvements across the business operations and ultimately, drive a stabilization phase to ensure that the achieved results are maintained and continue to work on continuous improvement.
Emprowa has extensive experience in program for continuous improvement and can help you quickly identify key areas appropriate to start up and pursuit of the business improvement within. Our experienced consultants are included as an aid to management during analysis and the boot process and helps then to all the way with the training of managers and project managers. During the pilot phase, the consultant can also act as project manager for one or more Kaizen-team to then take a more supportive role during the next phases of the program. The consultant also handles the audit of the teams to ensure both quality and performance.
Lean the company
In businesses with no process or machine equipment, such as assembly and inventory management a Lean program can be the starting point. One begins preferably with making a value stream mapping (VSM) in all or part of the value chain to identify bottlenecks or other types of losses. The aim is then to improve the delivery time and / or reduce inventory and production costs. Traditionally a company want to use its resources as much as possible and organize themselves with specialized departments. The focus is primarily on the use of resources; staff, facilities, equipment, tools, computers and business systems. According to the Lean philosophy that is focused on meeting customer demand from order to delivery, and try to minimize the time for a device to flow through all value-adding processes. Lean then becomes an operational strategy to reach a goal by continuously eliminate, reduce and manage variations to improve both the flow and resource efficiency throughout the supply chain.
Emprowa has wide experience of lean in many areas and provides current standard and / or customized training for companies who are interested to know more about how your company can become lean, ie, streamline and improve its supply chain. Our consultants will assist the management to define an appropriate lean program with well-defined sub-projects to eliminate waste in important processes and reduce the time from customer order to delivery. Depending on the company's ambition and self-advocacy skills, and implement changes in operations our consultants supports, managers and existing or prospective lean experts and other staff with supervision and training.
Daily Control & Performance Measurement
Daily Control (DC) is a very practical approach to communicate and visualize the daily performance and can be used in all parts of an organization, both on the shop floor and in the office environment. The owner of the daily check is a process manager (PCL) or office manager. The basic idea is daily or weekly monitoring of key performance indicators to quickly identify deviations from planned results against actual and take immediate steps to get back on track. In many cases, you already know after the first working hour of the day's results will be as expected. Most organizations usually have no idea and are surprised month's results will be presented. Then it is too late to make corrections that could save the result.
Emprowa has successfully helped many companies and organizations to map their processes and define appropriate indicators to be used successfully when building up a tailor-made systems for daily inspection. Our consultant training process leaders and their teams in place and discusses the key indicators already in use and that there is a basic understanding behind these metrics. Many indicators are often too high to be used operationally and need to be broken down to a level that staff can understand and work for. Thereafter listed underlying parameters that can affect the metrics both positively and negatively and structured approaches to problem solving is initiated. The next step is the audit of current standards and practices to ensure that they fulfil the requirements needed to achieve the expected results. Follow-up studies, results, problem solving and standards for the audit is communicated in a well-placed information board so that everyone in the unit can see what is being done and be kept informed. The staff is always present in the design and construction of the daily inspection and will feel ownership and work according to the new arrangement established and proud to present consistent and good results day after day.
Energy Reduction
To engage in activities to reduce the use of energy is not just a way to save costs temporarily, it is part of a sustainable strategy to maintain operations in the long term and reducing the carbon footprint at the same time. By mapping the energy consumption and have as a benchmark to reach the same levels as best in class companies or by designing theoretical models of machines and plants, the company can evaluate potential savings. The difficulty is often that it is manual and time consuming to accurately measure and collect data on energy consumption. Possibly it is possible to automate parts of the collection and control of energy consumption, which facilitates the work. The next difficulty is to do something with all the data available and begin to reduce energy consumption in the best way.
Emprowa help you chart your energy consumption and define appropriate benchmarks to evaluate potential savings and additionally helps with products, systems and methods to measure and control energy consumption and eliminate unnecessary consumption. A too high energy consumption can have many causes, might we use antiquated machines that devour energy unnecessarily and then it is investment in newer machines that apply. Other reasons may be that the methods and procedures we use are incorrect and need to be corrected, eg so we start certain processes for early or let machines stand idle and devour unnecessary energy. It may also be possible to review the batch sizes and optimize production for energy consumption. Many times as much energy is lost through so-called energy losses in the form of heat that can be taken advantage of or by isolation that reduces these losses. Compressed air systems and lighting often accounts for a large share of energy consumption and here are methods and solutions to reduce consumption. All the mapping of energy consumption makes working closely with staff who owns or maintains the premises, plant and machinery.
Knowledge and skills
We know that it takes time to become an expert in any subject or a sport you want to master. All athletes know the answer, often more than ten years. But we rarely know how long it takes to learn the basic skills for us to perform our daily work. The reason is quite simple, we have rarely defined or identified the necessary knowledge and skills needed to do the job the best way possible. Normally, we document nor how to monitor and measure competencies and skills in a practical way to secure both theoretical understanding and that people can actually perform the work as it is expected of them. These factors play a major role in the introduction of a new person to a new job. We have, at best, a simple program that lasts a day or week and contains a list of people we're meeting but rarely is a solid plan for how the knowledge and skills to be acquired in a structured way.
Emprowa has developed a unique system to identify and break down both theoretical and practical skills in a structured manner and containing levels of basic skills but can be expanded to also include expert levels for those who will develop the system further and act as internal trainers and coaches. We help to build a functioning education system linked to the HR department's other routines that are well integrated with the operational business needs. The HR department will quickly begin using parts of the system also at recruitment or relocation of staff because they easily can measure the competence gaps between current knowledge and skill of a person and match this against the detailed requirements for a specific position. It is also possible to judge how fast it will go for a new person to become self-sustaining. It has also control which people within the organization that are suitable to act as internal trainers and mentors for new employees or identify potential employees for future promotion.
Supplier Quality Assurance
Everyone knows that a chain is only as strong as the weakest link in the chain, and this also applies to the supply chains. Therefore, it is important to have a structured approach to selecting and developing suppliers to meet the company's standards and quality requirements. There must be a quality program in place for how to select and evaluate suitable suppliers and how they then can be integrated and developed to reach the level expected from both a cost and quality perspective and to reach a reliable delivery. Larger vendors often have their own quality program ensures that these requirements are achieved, while smaller and medium-sized suppliers in whole or in part without this experience.
Emprowa have many years of experience constructing reliable and easy to follow, supplier and quality assurance programs, both in Europe and in Asia, which satisfy both the company's own expectations and requirements defined in ISO standards. An efficient supplier and quality assurance programs should be well integrated into purchasing and quality department's daily routine and should not be seen as a process in itself. By developing well-functioning routines of daily purchasing activities and defining important parameters when selecting suppliers so you get a good foundation to build on. Suppliers must not only be skilled at producing cheap or high-end products, they must also be open to an integrated approach and react quickly to any deviations from the agreed specifications. Both parties should see a collaboration as a long term relationship that one is prepared to invest time and money in. A quality audit should be viewed as an opportunity to improve both the range and an relationships.


email: info@emprowa.com